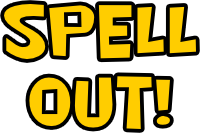 Choose your words wisely – the game depends on it!





Spell Out! is the all-new word game from
Next Dimension Games.
Race to claim the letters in your words before your
opponents can spell out theirs!
Spell Out! also includes a Solo mode and 2 sets of puzzle
cards, Standard for all the family and Advanced
for players who want a more difficult challenge.